How to Prepare Your Hair for Bleaching
Preparing hair for bleaching is an important step in achieving the perfect blonde colour. Read on to learn more about this process!
The hair bleaching process is easy, but it's important to be aware of what you're doing and take care of your hair afterwards.
It's important to know that the lighter your hair colour, the more likely it is that your hair will break. If you are going for a drastic colour change, it's best to start with a consultation with a professional stylist before proceeding.
To bleach your hair at home, you will need:
A good quality bleach
Developer
A mixing bowl and spoon
Cotton pads or old t-shirts (to protect skin)
Gloves (optional)
What You Need Before Bleaching Your Hair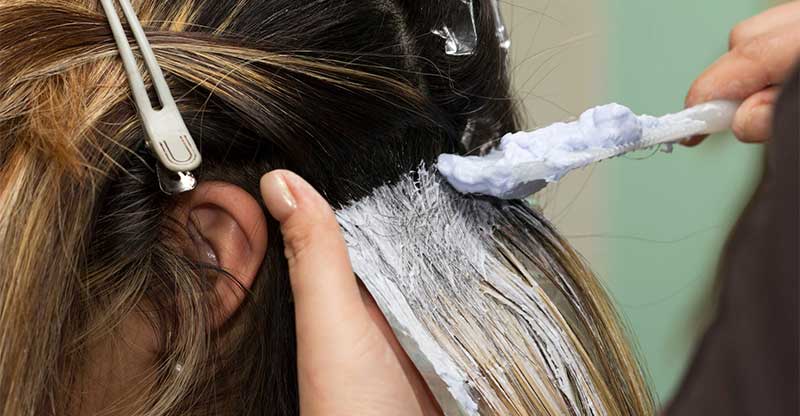 Bleaching hair is a process that many people want to undertake. However, before you bleach your hair, there are some steps you should take to ensure that the process goes smoothly.
When bleaching your hair, it is important to make sure that you have the right supplies for the job. This includes a bleach kit and bleach powder besides other products like shampoo and conditioner.
Consult a Hair Expert
The stylist needs to see the condition of your hair and what colour you want. A good stylist will let you know about any possible long-lasting side effects and will make sure you understand what's going on before it happens.
ALSO READ
How to Remove Hairspray from Hair
A good hairstylist will give you some helpful tips on what to do before and after a chemical treatment, as well as when to schedule your next visit. This is super important—don't skip it!
Deep Condition Your Hair With a Hair Mask
Deep-conditioning hair masks are a great way to revive dry and damaged locks. You can buy masks at the store or try doing this yourself by mixing coconut oil and olive oil, applying them to your hair, and letting it sit for about 15 minutes. You may also use a DIY mask by mixing yogurt, honey, banana, avocado, and egg and use it once or twice a week.
Avoid Heating Tools
If you can, try not to use heat styling for a few days before the appointment. Heat styling can cause damage and completely dry out hair. You want your hair as moisturized and healthy as possible before you start bleaching it so that it has the best chance of being successful.
Do Not Wash Your Hair
Before bleaching your hair, make sure to not wash it beforehand. Here's why: washing your hair before you bleach it can cause serious damage and make the process more complicated. If you did wash it, just condition it heavily afterwards.
ALSO READ
Biotin For Hair | Benefits And How To Use It
You see, your skin and hair follicles are shielded by natural oils produced by your hair and scalp from daily aggressors like chlorine, the sun, and harsh, chemical-filled shampoos and conditioners. Add bleach to all that natural damage, and suddenly you're unwittingly bald. No one wants that.
You don't want to shampoo your hair before bleaching it because you want to give it time to meet its natural oils and prepare itself. You'll be removing its natural color after, so you don't want to ruin your scalp and hair health. For these reasons, it's best to find products that are designed to take care of both your hair and skin. That way, you know toxic chemicals are ruining either of them.
Your hair colorist might wet your hair before bleaching it, but this is often a natural part of the process that can allow them to control the amount of bleach and how lightened it gets. No pro will ever wash your hair before bleaching.
Oil Your Hair
Yes, your skin and hair provide natural oils, but adding a layer of lighter oils before using harsh hair chemicals will help protect your scalp and locks.
ALSO READ
How to Refresh Faded Hair Colour Without Dye
There are numerous oils available for your hair and skin needs, which is fortunate because there can never be enough spoken about the value of oil. After bleaching your hair, you'll need to assist it in replenishing the protective oils that were lost.
How to Bleach Your Hair Quickly With a Henna Kit
Bleaching hair is a process that can take up to an hour, but there are some ways to speed up the process. One way is by using a henna kit. You can find henna kits in most drugstores, and they come with a powder that will dye your hair and a cream that will bleach your hair.
The first step for bleaching your hair with henna is to mix the powder and cream and apply it to your hair from root to tip. The next step is to cover your head with plastic wrap and wait for 30-60 minutes before rinsing it out with water.
Conclusion
You're now ready to use the best bleaching products in the market and perfect your desired shade of blonde!
Bleaching your hair blonde is a process that will take time, effort, and commitment. Many products on the market can help you achieve a lighter shade of blonde. From shampoos to dyes, find something that works for your budget and needs.
There are also some things to keep in mind when using these products, such as not using too much product or leaving it on for too long. You should also use a shampoo with protein to avoid damaging your hair with harsh chemicals.
Filed under: Makeup & Hair, Tips and Myths
---