Tamarind for Skin Whitening | Benefits & How to Use
To maintain the health of our skin, we must take care of it first. After all, having good skin is already a major benefit. Skincare, however, doesn't need to be expensive. The best place to find treatments for every skin issue, including acne, dry skin, dull skin, skin darkening, and ageing is in your pantry.
Tamarind, a common ingredient in desi kitchens, has several skin-friendly properties. It naturally improves our complexion and works wonders on the skin. We'll explain how to use tamarind for skin whitening in this article. The heart of many chutneys and curries is the sour, spicy tamarind. In addition to satisfying our palates, it can aid in the development of beautiful skin. So that's a win-win situation.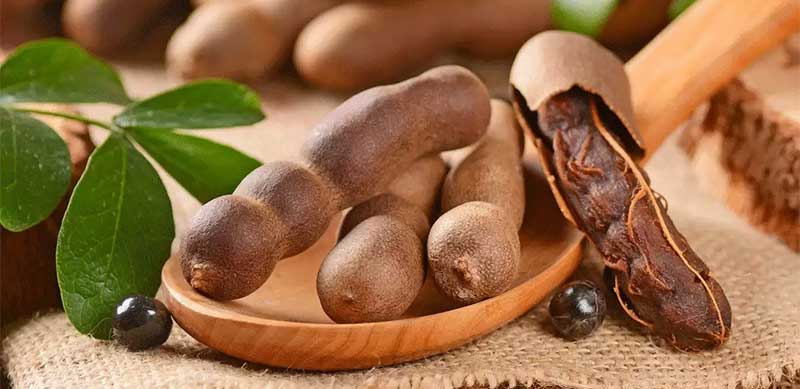 Read on as we discuss with you ways to use Tamarind for healthy, glowing, and white skin.
Why Should You Use Tamarind for Skincare?
Before we guide you on how to use tamarind, let's first dive into why is tamarind beneficial for skincare?
Vitamins A and C, which are both found in tamarind, are known for their abilities to lighten and brighten skin. Vitamin A aids in the reduction of blemishes and marks by encouraging cell renewal.
Antioxidant vitamin C aids in increasing collagen production in the skin, which is essential for fading scars and blemishes. Collagen contains amino acids that aid in reducing the visibility of spots, blemishes, and scars brought on by acne or other skin conditions.
Alpha hydroxy acids, or AHAs, are abundant in tamarind. AHAs do a great job of exfoliating our skin, clearing the pores, and preventing outbreaks. Additionally, they assist us to get clear skin and lightening scars, age spots, and acne marks.
Vitamin C, an anti-oxidant, shields our skin from free radicals brought on by UV exposure. Moreover, this vitamin aids in lowering the synthesis of melanin in our skin, which helps to remove hyperpigmentation, and brown spots, and create beautiful skin.
Our skin may become dark and drab as we age. Additionally, it causes hyperpigmentation. Tamarind, which is high in antioxidants and flavonoids, not only works wonders for improving our skin's appearance but also aids in repairing skin damage brought on by early ageing of the skin.
Tamarind's amazing anti-inflammatory effects help reduce skin inflammation and irritation. Due to its anti-microbial qualities, tamarind is also well renowned for its remarkable wound-healing abilities.
Benefits of Tamarind for Skin and How to Use It
Acts As an Anti-aging Agent
Tamarind possesses anti-inflammatory, anti-microbial, and antioxidant properties that have numerous positive effects on the skin. These antioxidants work similarly to the herb star anise in protecting skin cells from oxidative stress and may even delay the appearance of wrinkles, fine lines, and dark spots.
ALSO READ
Lemon Peel – Surprising Benefits For Skin & Hair
The skin receives priceless hyaluronic acid from tamarind. In the body, hyaluronic acid (HA) is a polysaccharide that occurs naturally. HA, often known as "The Fountain of Youth," is what fills the space between cells.
To make a natural lubricant that locks in moisture and adds fullness, combine tamarind with a homemade seaweed wrap. This will keep skin soft, smooth, and supple.
Works As a Skin Exfoliator
You successfully clear your pores when you exfoliate your skin. The exfoliating capabilities of the acid found in tamarind pulp, which is made from the fruit of the tamarind tree, have been employed traditionally.
Exfoliating your skin after cleansing prevents that dead, dry skin and any other surface impurities from entering your pores and generating tenacious blockages in the form of whiteheads and blackheads.
Rock salt and tamarind pulp should be combined in an equal amount, and then applied to the skin in circular motions. With the help of this scrub, your skin will become smooth and healthy. Wash it off well, then wipe your face dry.
Use It As an Anti-acne Face Mask
Who said tamarind could only be consumed with rice and used in soups? Did you know that tamarind pulp and uncooked rice may be combined to form a fantastic anti-acne mask? Just briefly cook these two ingredients in the oven before grinding them into a paste.
Add olive oil to it, apply it to your face, and after 20 minutes, rinse it off. Because rice contains starch, its anti-inflammatory effects calm the skin, and tamarind efficiently reduces acne.
For Skin Lightening
By letting some tamarind soften in warm water, you can make tamarind pulp. Remove the pulp, then sort the seeds and skin. To make papaya pulp, mix a few cubes of ripe papaya. A teaspoon of papaya pulp and tamarind pulp should be combined. Apply the mixture to your face and neck in its entirety. Apply light pressure with your fingertips. After letting it stay for 10 to 15 minutes, rinse it off. Make sure you continue with this at-home skin-lightening regimen with papaya and tamarind twice a week.
ALSO READ
5 Ways To Use Milk Cream (Malai) For Face Whitening
To obtain smooth and radiant skin, use this twice a week. Potassium, an essential mineral for our skin, is found in papaya. Potassium aids in moisturizing and hydrating dry skin. Additionally, it contains vitamin A, which is crucial for treating dry skin. Vitamin A treats dry, flaky skin and aids in the generation of sebum. On top of that, vitamin A aids in minimizing the appearance of freckles and acne scars.
Cures Dry Skin
The significance of hydrating your skin every day cannot be emphasized enough. Our skin's natural capacity to expel dead skin cells slows down as we become older. Increased clogging, blemishes, dark patches, and uneven texture may result from this. The accumulation of dead cells can make it harder for the skin to absorb moisture.
The benefits of tamarind include removing old skin cells and regenerating new ones, improving the texture and appearance of your skin. Exfoliation is one of the greatest ways to treat flaky skin if it is dry or dehydrated without using thick, caked-on moisturizers.
Conclusion
Tamarind is one of the most dependable natural sources for skincare products. Since the seeds are the most used component and would otherwise be thrown in the trash, it also reduces food waste. This is also excellent news for conservationists because manufacturing factories have a significant carbon impact when making chemical cosmetic products.
Tamarind also provides numerous health benefits and is amazing for the overall health of the skin.
Filed under: Beauty, Skin Care, Tips and Myths
---