Best Tricks to Get Hair Dye Off Your Skin
Remove hair dye stains from your skin within minutes by using our simple tips and tricks
You have got your dream hair colour on your hair. It looks on your hair but on your face, neck and your forehead. Oops! DIY hair dyeing, while you are at home, is the best thing ever as it saves you a lot of money and also saves you time that you would waste at a beauty salon while getting your hair dyed. But it's not as easy as it sounds because you aren't a professional and you do end up creating mess putting stains on your skin accidentally. These stains are then so difficult to remove from your skin.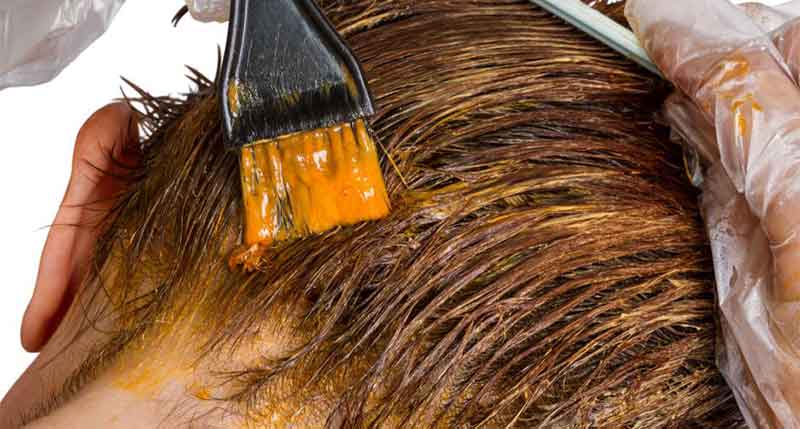 Hair dye stains are quite stubborn to remove, but one right ingredient is all you need to remove hair dye stains from skin immediately, without any worry in the world. And the good thing is that ingredients might already be in your kitchen or bathroom. Before we head over to ways of how to remove hair color from skin, let's first understand how we can prevent these stains to cover our face, neck and forehead in the first place.
Ways you can prevent stains on your skin while dyeing your hair
You can wear gloves to protect your hands from being stained by the dye.
Apply a moisturizing cream or petroleum jelly around the hairline to prevent hair colour from flowing away.
A barrier between the hairline and your hair will prevent the hair colour from dripping on your face.
ALSO READ
Why Some Hair Colours Last Longer than Others?
These tips will help prevent the hair colour from staining your skin but we understand that you are not an expert and mishaps happen. So to cope with these mishaps, let's now learn various ways to remove hair dye stains from the skin without doing much.
Olive oil helps remove stains
People with sensitive skin can use Olive oil to remove dye stains from their skins. It is a natural cleanser that is considered very effective in removing dye stains from the skin.
How to use oil to remove all stains? Dip a cotton ball in olive oil and rub over your stains. Leave the oil for at least 9 hours before you remove the oil with warm water.
Soap
As soon as you see a stain on your skin, the first thing you should do is wash the stain off with soap and water. If you wait for it to dry, then, unfortunately, soap won't be enough to remove the dye stain from your skin.
Alcohol with the rubbing property
For people with dry and sensitive skin, rubbing alcohol might prove to be a harsh remedy but people who can take the harshness can apply it to the stains. All you have to do is dab a cotton ball dipped in alcohol, on the stain. Once you notice that the dye has been removed, make sure you rinse the affected area with warm water and soap to get rid of any leftover alcohol.
Non-gel Toothpaste
A non-gel toothpaste can be applied on a cotton swab or your finger, to remove the stain. Massage the toothpaste on the dyed skin and leave it on for 15 minutes before you wash it off with warm water.
Nail polish remover
It's not safe to use Nail polish on your face or neck, but if you have a dye stain on your skin, you can definitely use a nail polish remover to clear off the stain really fast.
How To use it? Soak a cotton ball in a good quality nail polish remover and apply it to the stain. Rub the cotton on the stain. The stain will definitely come out after two or three rubbings.
Dish soap and baking soda
Both baking soda and dish soap are considered exfoliating and highly effective to dissolve any stains caused by the dye.
Form a paste by mixing gentle dish soap and baking soda together. Rub the paste on the stain before washing it off with warm water.
ALSO READ
How to Stop Hair Fall & Regrow Hair Naturally
Some points to ponder on!
Any one of the above methods can help you get rid of dye stains very easily. Just as a precaution, try using a hair dye that is safe for you and your kids and also keep a check on the ingredients in the dye to make sure that you are not allergic to any of the things present in the dye. Also, if you are pregnant do ask your doctor first, before applying dye to your hair. Keep your skin safe from chemicals as much as you can.
Filed under: Makeup & Hair, Skin Care, Tips and Myths
---