Coconut Oil for Hair: When to Use & When You Shouldn't
The pros and cons of coconut oil in hair!
Every girl dreams of long, soft, and lustrous hair and a solution that is easy on the pocket. Well, look no more, grab a coconut oil bottle and witness its magic. Coconut oil caters to all types of hair textures, helps recover from any hair damage, and restores shine in your hair. Coconut oil is the richest natural source of medium-chain fatty acids special types of fatty acids with antibacterial and antimicrobial properties that are very nourishing to the body.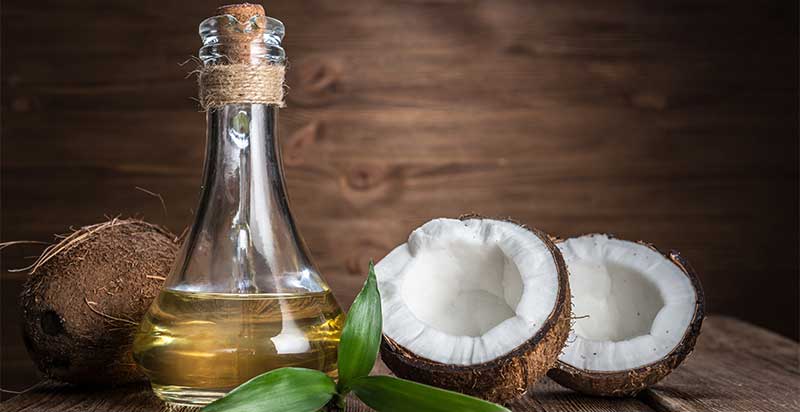 What Damages Your Hair?
Chemicals, processes like hair dyeing, highlighting and even regular styling can damage the protein in our hair. Healthy hair depends on protein and loss of the same can damage hair to a large extent. Coconut oil has the ability to penetrate deep in the hair and works well as pre-wash in restoring protein in damaged and undamaged hair.
ALSO READ
How To Stop Your Hair Color Fading Fast
How and When to Use Coconut Oil?
Coconut oil's versatility is what makes it a unique one from other oils. One can use it as a hair wash or a conditioner or can use it for styling purposes. Here are 4 simple ways you can use coconut oil to benefit your hair:
Before Washing: What makes coconut oil the best among others? One reason is that it can stop your hair from soaking up too much water if applied before wash. This then helps from any damage and dryness. Apply coconut oil about 15 to 30 minutes before you wash, majorly on the midsection and ends of your hair.
Conditioner: Like any good conditioner, coconut oil prevents breakage strengthens the hair shaft. It works as a great alternative to the other standard conditioners. You can apply it as it is or used it with the conditioner by mixing some drops of it.
Use it as a Styling Aid: Coconut oil works wonders in styling. Instead of using hair sprays full of chemicals, just a dab of coconut oil can go a long way when it comes to taming frizz. For easier absorption and optimal styling, make sure to apply the oil to damp hair.
Hair Mask: Hair massages not only improve your blood circulation but also nourish your hair. Coconut oil can be used as a great way to massage your hair by just using a teaspoon or two through your hair and let it work its hair-softening magic. You can wash the oil out after a few hours, or leave it on overnight for exceptionally dry or damaged hair.
Add other Ingredients: Adding other oils can change how coconut oil affects hair. For instance, coconut oil doesn't seem to make hair dry or brittle when mixed with argan or marula oil. By simply mixing sugar with honey can nourish hair and make it naturally smooth and frizz-free.
ALSO READ
Styling Techniques for Less Hair Damage
Cons of Coconut Oil
Coconut Oil can Promote Protein Buildup
Although coconut oil cleanses the scalp, it can also cause a protein buildup by restricting moisture on dry or coarse hair. This will block the needed moisture and cause your strands to dry out. The end result? Split ends and hair breakage.
Too much Coconut Oil can be Bad for your Hair
Typically, we never follow the instructions given to us on the back of a conditioner bottle. In the case of coconut oil, oversaturating your hair is counterproductive. Because it is a heavier oil, it will weigh down your curls if you use it too
Mixed Results from the Oil
Certain oils do seem to be pretty much universally beneficial for hair, but coconut oil isn't always one of them. For instance, castor oil is the oldest secret for increasing hair growth. Coconut oil, on the other hand, gets mixed results. Some people report immediately healthier and smoother hair, while some people have claimed that they have experienced hair fell out after using it.
Not for Every Type of Hair
Since it helps the hair retain its natural protein, it can be helpful for those who lack enough natural protein in hair. Typically, those with fine to medium shiny hair will see good results from coconut oil and notice stronger, shinier hair with more volume. It is essential to know your hair type to understand what suits you best.
ALSO READ
Natural Ingredients You Can Use To Moisturise Hair Instead Of Oil
Conclusion
Irrespective of the fact that like every other thing in the world, coconut oil has its share of cons, in the long run, however, the use of coconut oil has only reaped good results. It is always a good idea to get the right advice from an expert on this matter.
Filed under: Makeup & Hair, Tips and Myths
---