How to Grow Eyebrows Naturally & Fast
Do you dream of having thick eyebrows? Here's how you can get them naturally and real quick!
I challenge you to find me just one person who doesn't like their eyebrows in a perfect thick shape? Every woman on this earth craves for perfect eyebrows because somehow good eyebrows contribute greatly towards the shape of your face and your personality.
Long and thick eyebrows are in full demand!
There was a time when thin and short eyebrows ruled the screens and magazine covers but the trends have changed now and thick and long eyebrows are back in the scene. You might have also noticed models and actresses carrying thick eyebrows quite effortlessly these days. We can't run away from the fact that eyebrows are very prominent and visible features of our face and there is no way you can hide a bad eyebrow from anyone. A beautiful eyebrow does attract attention and the thicker your eyebrow is, the more attractive your face will look. But not everyone has the luxury or blessing of thick hair on the eyebrow. Some people face very slow growth in the eyebrow area and it takes them ages to make them grow thicker and longer. Women with sparse eyebrows are always looking for remedies to make their eyebrows gain volume.
ALSO READ
Dark Circles Under Your Eyes: Causes and Treatments
6 natural ways to make your eyebrows become thick and full
Thick eyebrows just become a dream for some women because going hair overnight is only possible with magic which obviously doesn't exist. But if you are looking for how to grow eyebrows thick and are not in a hurry then there are many home remedies that you can follow that can accelerate your eyebrow hair growth with time. Here are 6 natural and quick ways to make your eyebrows thick and runway worthy.
Castor oil to sort your eyebrows
Castor oil is known, since ages, to enhance hair growth faster than any oil. Castor oil remedy is old and the most effective one as this oil is enriched with proteins, vitamins and fatty acids. If you are looking for faster hair growth in your eyebrows, massage castor oil to your brows every single day for at least a month. Keep the oil on the eyebrows for a good 30 minutes before you wash your face off with warm water. Black castor oil is considered great for natural hair growth so choose that one if easily available. Practice this remedy religiously. You will gradually feel your hair strands getting thicker and stronger than before.
Olive oil is a safe option for thick eyebrows
Olive oil is an excellent oil option when it comes to hair growth. It is made up of two major vitamins, Vitamin A and Vitamin E. Both these vitamins nourish hair strands. Vitamin A helps produce sebum which is a natural body oil to accelerate hair growth. Apply some olive oil on your fingers and massage your eyebrows with the tips of your fingers. Keep Massaging for 10 minutes. Let your eyebrows absorb the oil properly. After a few hours wash your eyebrows with just plain warm water. Make sure to follow this remedy every day for a month at least.
Believe it or not, onion juice is truly magical
You might be surprised after reading this but yes, onion juice is considered great for hair growth in any area of your body. It is rich with selenium, lots of minerals, sulfur and vitamins that are great for quick hair growth. Sulfur accelerates the growth of collagen in our body which is an essential ingredient for hair growth. All the minerals and vitamins mixed together in onion juice makes the juice one of the best candidates to aid hair growth. Now, an onion has this very strong pungent smell which might make it impossible for you to apply on your eyebrows. So, to kill that smell, you can always add lemon juice to the onion juice that you have drained out from the blended onion paste. Apply the mixture on your eyebrows and wash it off after a few hours. Apply this remedy every day to see your eyebrows become thick and stronger within days.
ALSO READ
Why Do I Get Swollen Eyes in the Morning? Causes & Treatments
Egg Yolk is a powerful food
Remember how our grandmothers used to advise us to apply egg yolk on our hair for string follicles and fast growth? The theory behind applying yolk to the hair is the presence of proteins in an egg yolk makes it a great source to treat hair growth in hair because eyebrows are made up of keratin protein and all they need are more proteins to grow. Egg yolks are also rich in Biotin which again is an essential ingredient to hell the brows grow. Separate an egg yolk in a ball and beat it enough to form a thick paste. Apply the paste on your eyebrows at least twice a week.
Our favorite petroleum jelly
Moisture is very important when it comes to growing your eyebrows. Petroleum Jelly helps retain the moisture in your eyebrows. It prevents the moisture from evaporating which helps to keep the skin moisturized for a long time. This contributes towards eyebrow hair growth and volume. Take a small amount of petroleum jelly in your fingers and massage your eyebrows with it every night. Keep the jelly on your eyebrows for the night and wash it off in the morning. You can practice this remedy every night to achieve the derided eyebrow thickness.
Aloe Vera is a gifted plant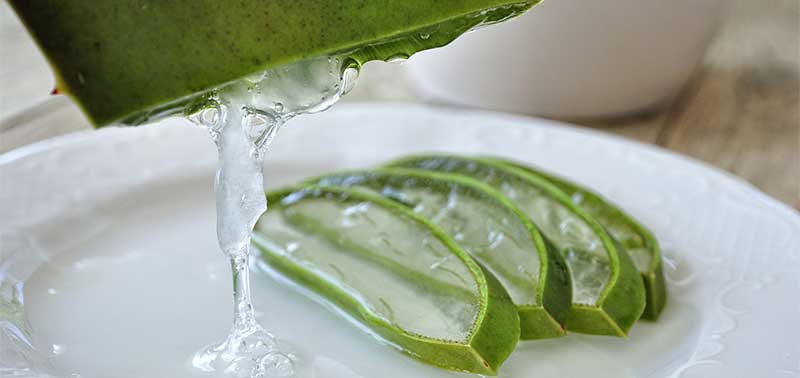 Aloe Vera is rich with an ingredient that is named as aloenin. Aloenin is known to contain magical power to promote the growth of hair. It is said to contain similar properties as Keratin hence it helps to enhance the elasticity of hair and save them from any breakage. Another great thing about Aloe Vera is that it helps block the excess production of sebum as well. It helps to get rid of excess oil and open up hair pores to enhance hair growth. Aloe Vera is a permanent solution to grow eyebrows thick. The gel from Aloe Vera gets absorbed quite easily and is non-sticky which makes it perfect to apply at night. You can practice this natural remedy every day. Extract enough gel at a time and fill it in an airtight jar so that it can be used again and again.
5 Things you can do to grow eyebrows faster
Consume food that is rich in Biotin such as salmon, avocado and eggs.
Use a brow serum to stimulate hair growth on your eyebrows
Avoid face makeup as much as you can.
Massage your eyebrows regularly to increase blood circulation
Don't pluck or wax your eyebrows
So, if you need to know how to grow eyebrows fast, make sure you follow the above remedies and tips consistently. There is nothing better than fuller eyebrows so get yourself those with everything natural and safe.
Filed under: Tips and Myths
---