6 Places You Never Thought to Apply Concealer
Six Surprising Spots to Apply Concealer On And Achieve Perfection.
We love concealers, don't we? No one covers our flaws better than this product. It is one of the most amazing products that help our skin look better even in its darkest phase.
A concealer can help hide blemishes, dark circles and camouflage all imperfections like magic. However, surprisingly, many people are still unaware of this product's potential. It can do much more than just the above three things.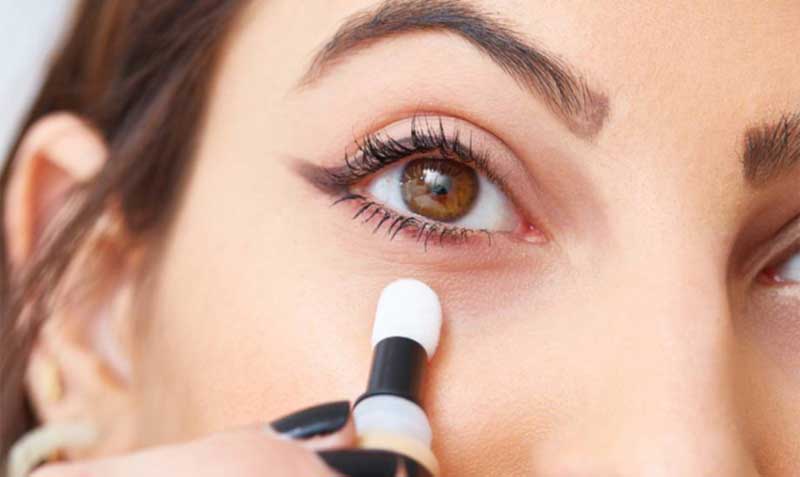 If you want to use your cleanser stick or powder to the fullest, dig in to find six unique places where you can also use it. We are sure you won't be disappointed.
6 Places to Use Concealer
Mouth's Corners
Ageing is a natural process and every person has to experience it. However, while it's something you should proudly accept, sometimes it is fine to hide the loose skin and wrinkles through makeup.
ALSO READ
What to Do When You Sleep with Makeup On
Fine lines are a part and parcel of ageing and they are most common on the outer corners of your mouth. If these lines are degrading your confidence and making it hard to smile, you can always use a concealer to hide this flaw.
Around the Brows
Your eyebrows are an amazing feature of your face. And when they are perfectly shaped, who wouldn't highlight them for the world to see?
To make your eyebrows more prominent, apply concealer below and above the eyebrows through a thin application. You can also use a concealer to define your arches and recreate a shape for the brows.
In the case of unneat brows, this product may also work. However, a concealer doesn't hide bushy or ruined brows.
On Your Nostrils' Boundary
While this may come as a surprise, but yes you can apply concealer around your nostrils. But why is that necessary? This area is almost always red and has more capillaries than on any other part of your face.
ALSO READ
How to Remove Eyelash Extensions at Home
To hide the two flaws, concealing this area is a great way to go about it. Also, covering this area allows it to blend with the rest of the face without making it look flawed.
Under and Inner Corners of the Eyes
You may already know that a concealer can hide your dark circles within minutes. But do you know to experience perfect results, only apply a concealer on the blue and purple tint under the eyes?
Moreover, to make your eyes stand out, apply a thin layer of concealer in the inner corners of your eyes. This will not only make your eyes look bigger but will also make them shine.
On the Nose Bridge
If you want to make your nose look thinner than it already is, apply a thin layer of concealer starting from the bridge of the nose and ending to its centre. This is a pretty amazing trick that most people are unaware of.
Applying concealer on this area highlights the centre part of the face and makes your nose look pretty slender. You can also contour this area and make your nose appear like you always wanted it to.
On Your Chin
You must have felt your chin going redder than the rest of your face. Well, that's true because the area is the favourite for acne and blemishes. However, you can hide all the unwanted redness by making a small circle on the centre of the chin and blending it well.
Moreover, this application also helps with highlighting this area and accentuating your lips.
Parting Thoughts
Who knew a concealer could be used on more than one area at a time? This product never disappoints us and this article is proof.
If you want to experience the magic of concealer on your face, try it on the spots mentioned above. We are sure you will fall in love with this product all over again.
Filed under: Makeup & Hair, Tips and Myths
---