Here is everything you need to know before you buy yourself a suitable hair brush!
We have all grown up listening to a famous nursery poem, this is the way, where we were also taught how to comb our hair with so many other things. Do you remember that? The poem accomplished its mission by teaching us how to brush hair but little did we know then that, as an adult this would be the last thing we would be worried about. Brushing is easy but finding the right type of hair brush is a task.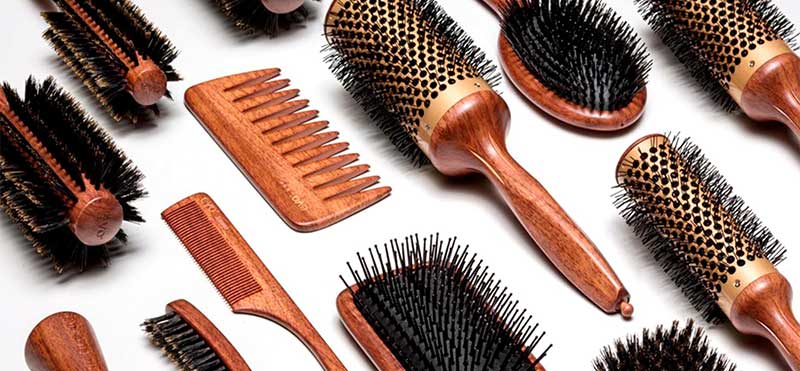 A fit hair brush is all you need in today's fast-paced world
People, these days, are always on a go. They have hardly got time to sit and relax. In a life like this, technology has played a great role. Innovating new things everyday, technology has made lives way easier than they were before. With so many new kinds of hair brushes in the market, it's hard to figure out the one that would be worth buying. All the new brushes available, such as hair straightener brush, blow dryer brush and a hair dryer brush are here to make our lives better but they are expensive too so it's very important to look out for the ones which we need the most.
Which hair brush can fulfill all your needs?
In this article, we have helped you to figure out which hair brush is a must buy depending on your hair texture, your everyday hair styling needs and your budget. Also, we have mentioned a few of the brands that manufacture these brushes without compromising on the quality.
Is this blog already sounding as something worth reading? It definitely is! Read on to find out which hair brush would fit you the best and save you time, energy and your money.
The Hair Brush Guide
Hair Straightener Brush
Straight hairs are a go-to style of every woman these days. This is because straight hairs look far more organized and they can be styled in a thousand different ways. Flat irons have always been everyone's favorite for straightening hair but a new tool, hair straightener brush, has completely changed the game.
ALSO READ
How to Stop Hair Fall & Regrow Hair Naturally
A hair straightener brush from a good company is an excellent investment that you can make when it comes to straightening your damp hair. This brush works great on any type of hair texture. From regular to thin, a hair straightener brush is a wonderful tool to keep your hair straight for long.
Also, a hair straightener brush works wonders on your dull and damaged hair by adding volume and shine when used. The hair straightener brush adds flexibility to your hair style and makes your hair look much healthier than before. This brush is a wonderful option, better than iron if you plan to use this daily. Although a hair straightener brush is slightly expensive than a flat iron, the benefits of using this brush outweigh the benefits of using a flat iron, any day.
Here are a few recommended hair straightener brushes that you can buy for yourself.
Revlon Perfect Heat Tourmaline Ceramic Hot Air Brush
Apalus digital hair straightening brush
AsaVea Ceramic Straightener – UK 29watts
Blow Dryer Brush
Want to have a blowdry at home? We think a good blow dry is only possible if you get it done from a professional at a salon or from a home-based beauty service. This was true, but not anymore, thanks to a blow dryer brush. This brush is a blessing for many. Spending hours in the bathroom getting your hair sorted is part of history now.
A blow dryer brush adds volume to hair irrespective of the hair texture. Thin hair? No problem. Thick hair? No big deal. This brush can tackle all kinds of hair thickness and also adds shine as required. It is definitely expensive than a regular blow dryer but the results are far more promising. Also, you don't have to use too many hands to get your hair sorted. A blow dryer brush is all you need if you are planning for a night out or a day lunch with friends or family.
Here are a few blow dryer brushes that are recommended by experts for you to try.
Revlon One-Step Hair Dryer & Styler
Conair 3-in-1 Tourmaline Ceramic Hot Air Brush Combo Kit.
BaBylissPRO Nano Titanium Rotating Hot Air Brush.
Hair Dryer Brush
A hair dryer brush is everything you need to dry your wet hair at home as quickly as possible without compromising on hair thickness or shine. A hair dryer brush is a blessing in disguise. The results from using a hair dryer brush are phenomenal.
ALSO READ
Mistakes You Might Be Making If You Have Thin Hair
A hair dryer brush dries up your hair in minutes without causing any breakage. A smooth brush with a drying quality, a hair dryer brush aims to create volume in your hair and retain the shine of your hair. A hair dryer brush has a structure similar to a round brush and uses the hot air like that of a blow dryer to turn your wet hair to sleek hair, within minutes. It is also great to cut down your hair frizz. Worth buying? Definitely, yes. There are so many hair dryer brushes available in the market right now. Most of them are excellent and produce similar results. Here are a few highly recommended ones that you can choose to buy.
Drybar The Double Shot Blow-Dryer Brush
Revlon One-Step Hair Dryer & Volumizer.
Dyson Airwrap Complete Styler.
We hope that this guide helped you to decide which hair brush to go for. Always remember, your hair is one of the most valuable gifts you have. Choose the brush that satisfies your hair needs and also your pockets because they both matter.